As we come to the end of Stress Awareness Month…
You know that feeling? The one where your body feels tense and your brain goes foggy? Those are classic signs of stress.
Don't get me wrong, some pressure can be a good thing, getting the cortisol flowing and helping you perform at your best – think about the nervous excitement you might feel before a job interview, a sporting event or a stage performance.
Too much pressure, for too long though, and things become less healthy, as shown in this handy graphic of the Yerkes-Dodson Law.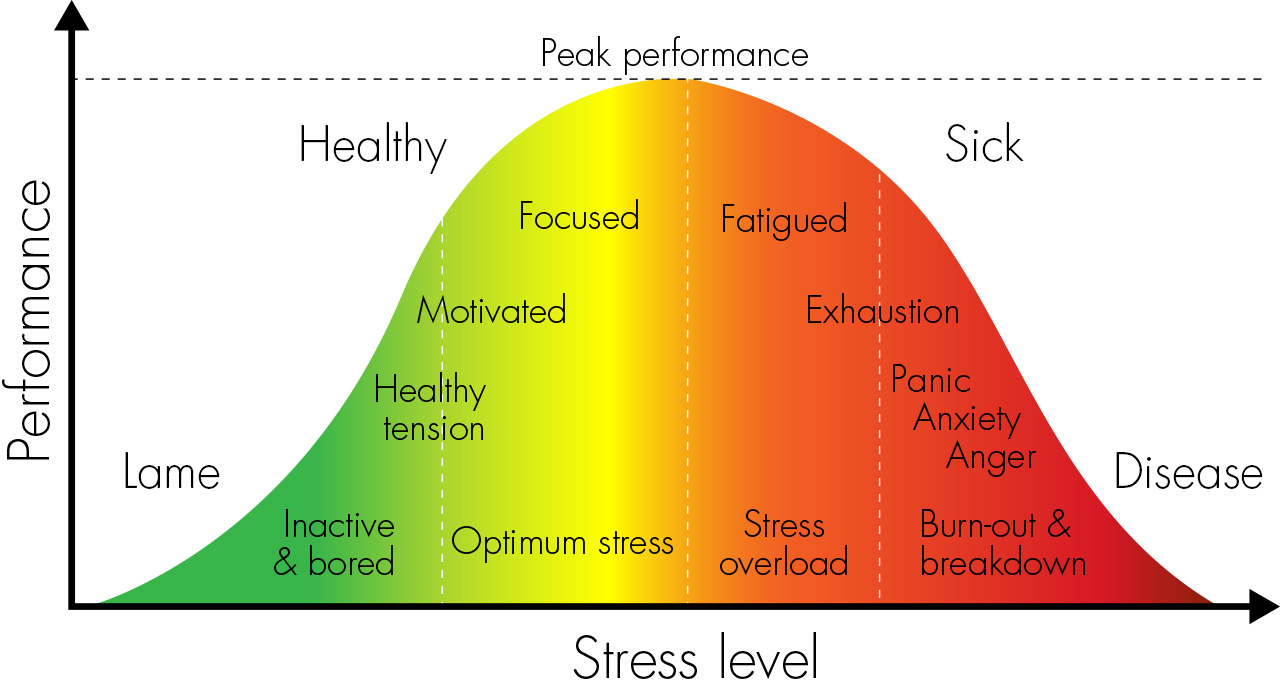 Like all of us, there are times in my life when things are stressful and I've learned a couple of ways of managing it that I've found transformational in recent years.
Acceptance
It's so simple but SO important. My starting point is the Serenity Prayer, penned by the American theologian, Reinhold Niebuhr, in the 1930s.
A recent example happened just this week when I was travelling home after a couple of days away for work.
I was due to catch a flight from Anglesey in North Wales, to Cardiff. The tiny airport on Anglesey is located on an RAF base, which closes at 6pm.
My flight usually leaves at 5.30pm but unfortunately there were issues at Cardiff and the incoming flight was delayed. Sometimes the RAF will keep the airport open to enable to flight to land and take off again but this time it closed as scheduled, which meant a 90-minute coach journey over to Chester to pick up the flight. In the end I got home about two hours later than originally planned.
I could have been really cross about it, and indeed some of my fellow passengers clearly were(!), but I understood there was no point being annoyed as there was nothing I could do to change it.
Instead I decided to do a little bit more work on the bus and then sat back and enjoyed the different perspective of driving along the North Wales coast on a bus, as opposed to in a car.
7/11 breathing
This brilliant technique, which I was introduced to at my very first Fresh Air Fridays session, is another beautifully simple way of managing stress in the moment.
It works physiologically, actually calming your system – two minutes breathing in this way, with the "out breath" longer than the "in breath" and you will feel the difference.
It's about stimulating the parasympathetic system, which is basically the opposite of the "fight or flight" response. There's some great additional information on this here, if you want to read more.
I use 7/11 breathing in a range of situations that have the potential to be stressful, whether that's an important meeting, discussing a tricky topic with my husband, or networking. I find that taking a couple of minutes before any of these kinds of situation really helps to clear my brain and puts me in the healthiest state of mind.
How is it for you?
We're now coming to the end of Stress Awareness Month and these are my go-to ways of managing when things are tough. Might they help you too?